Our range of colours just got better, with Poolburn Stone Quarry  we now have the most extensive colour range of schist available on the market. We have the unique phyllitic schist from Cluden Stone Quarry and the beautiful psammitic stone from Poolburn. The quarries offer the widest range of colours from weathered browns and golds to grey and grey-blue stone. 
Our products are all hand crafted and finished to ensure high quality and consistency, we offer bespoke service carefully selecting stone to suit each project ensuring a high level of quality you can trust. 
Our specially imported Italian guillotines accurately splits and cuts blocks of Wanaka Stone into usable pieces to clad your home or create features walls, fireplaces, columns, chimneys.
We supply the schist in 1 tonne bags and can supply any quantity from 1 tonne upwards. The number of metres/tonne vary for the different products but 3.5m-5m is achievable depending on the style laid and product used.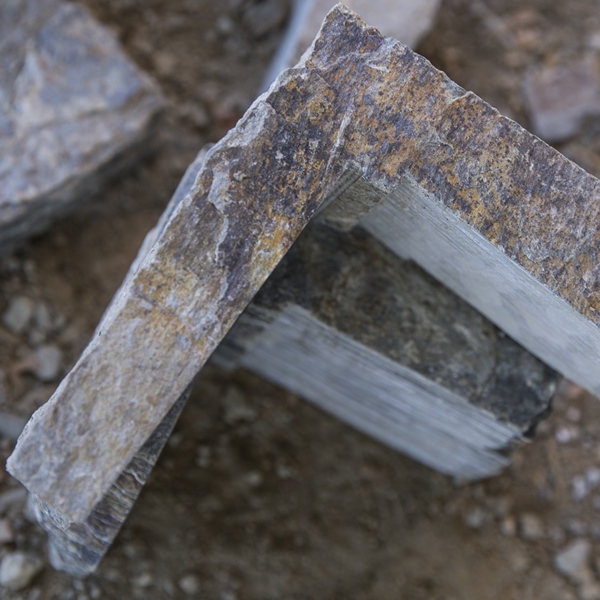 Lightweight Schist Veneer
When space or weight of natural stone cannot be accommodated in a build we can supply a thin cut schist for use as a cladding. Natural stone is guillotine cut and then sliced thinly using a diamond saw. Only the guillotine cut faces are used ensuring the schist veneer matches perfectly with natural stone. Lightweight schist can be glued to a backing board similar to a tile and finished in the same style natural stone is. Finished, lightweight schist looks identical to natural stone and can be used on high walls, difficult architectural designs and in limited space areas.
Pavers are hand hewed from our unique phyllitic schist, this uncommonly flat schist naturally cleaves into thin but strong layers. Colour varies from weathered browns and golds through to grey-blue. Each piece varies in size with random shaped edges. They are sometimes called crazy pavers due to the puzzle like approach to laying them.
When creating formal setting the schist pavers should be laid closely and grouted into place forming a flat surface suitable for outdoor dining. With informal paving, the pavers are placed onto a compacted base course much like concrete paving, once placed sand and tile grip can be used to create a permanent finish. Garden Grade pavers used to create rustic garden paths and step stones can add a low maintenance appeal to any garden. 
We supply pavers in bulk bags, each bag contained enough pavers for between 8-10m2 (depending on the style used). It is possible to purchase smaller quantities also.
Add permanent value to your home with a complete range of Schist landscaping products from gravels to large feature rocks weighing many tonnes.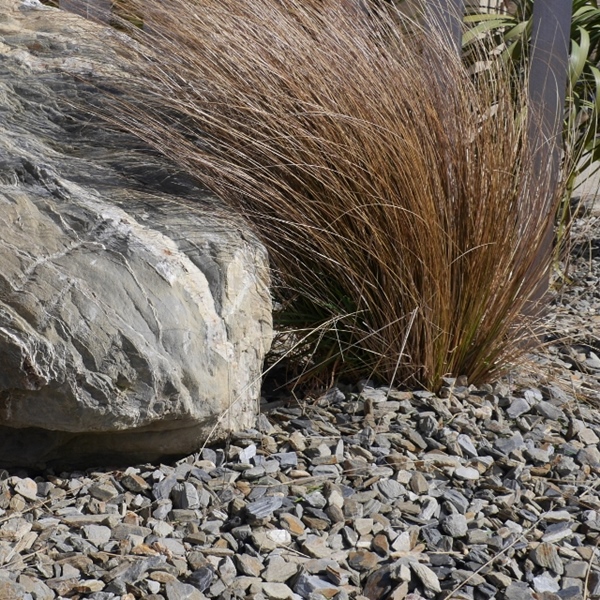 Crushed Schist Gravel
Blue-grey with hints of charcoal and gold-brown and crushed into three sizes 20mm, 40mm and 65mm. Instantly create permanent groundcover which discourages weeds, can't be moved by birds and required very little maintenance. When laid at around 50mm thick layer it is possible to cover around 6-7m2 per tonne.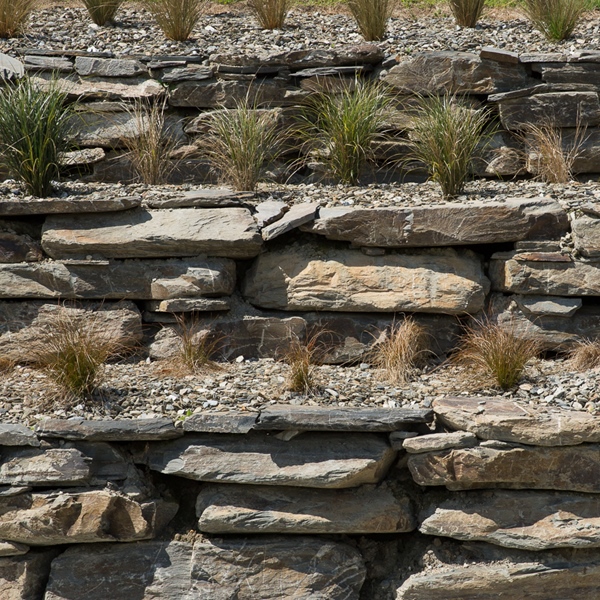 Retaining Wall Rock
Schist retaining walls blend seamlessly with the natural landscape while giving a permanent solid finish. We produce a variety of different sizes from man-liftable to digger placed. Our retaining is preferred by contractors due to the naturally flat faces which makes placing in a wall straightforward.
Keen to see some stone? Call or email now to arrange samples.